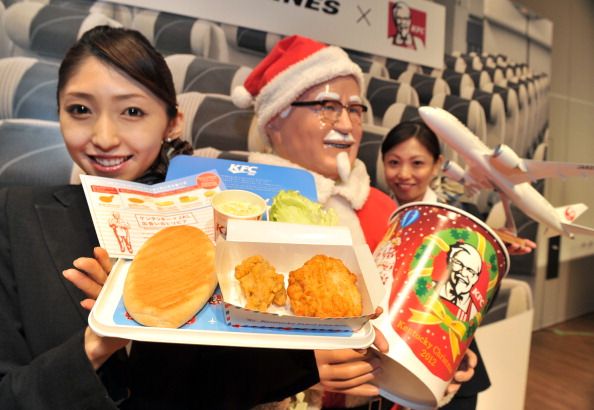 As the holidays approach, millions of people around the world will participate in their own holiday traditions. Instead of hanging stockings on the mantle or drinking eggnog around a fire watching holiday movies, there are other whacky traditions that people in different cultures partake in.
From caroling with dead horses to the Austria Krampus festival, there are many ways to people celebrate the holidays without an Elf on a Shelf.
1. La Befana – Italy:
Santa Claus is not the highlight in Italy come Christmas Eve. An ugly, but kind, old witch is known as Befana (giver of gifts') controls giving the gifts. On January 5, known as the eve of Epiphany, parents will leave out a place of broccoli with spiced sausage and glass of wine for Befana. Tradition says the good witch flies around on her broom and enters houses through a chimney to deliver clothing, toys, and candy to all the good children. On January 6, children will find the treats and toys in their stockings.
2. KFC Dinner – Japan:
In Japan, Christmas isn't really celebrated, but Kentucky Fried Chicken sure is! Yes, eating KFC on December 25 instead of having a homemade Christmas dinner is a tradition in Japan. The Colonel's special recipe fried chicken is so popular, the chain asks customers to place their orders at least two months in advance. The popular feast began back in 1974 when it was introduced to Japan for visitors who wanted a dinner resembling a traditional holiday meal. The chicken dinner also attracted locals, and it's still a tradition practiced 40 years later.
3. El Caganer – Spain:
Instead of Elf on a Shelf, el Caganer is the most important holiday figurine, even if it is a little obscene. The male figurine's name is translated to the defecator, which makes sense since the porcelain doll is squatting with his pants down. And yes, he is trying to take a "number two." The exact legend of how this tradition got started is unknown, but legend has it that farmers would be punished with a poor crop harvest and bad fortune if they didn't include a caganer within their nativity scene. Today, the tradition continues with Christmas markets selling old school caganers alongside new versions that feature famous faces such as footballers, rock stars, and Barack Obama.